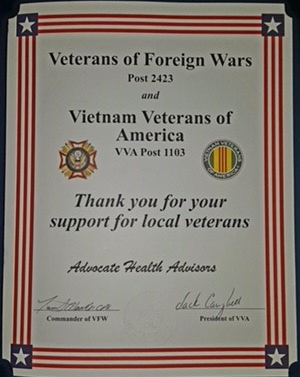 Recognition Reiterates Company's Commitment to Celebrating Military Service
January, 2017
Advocate Health Advisors, a Veteran-owned healthcare organization committed to helping Veterans successfully navigate the healthcare system, was recently recognized for their support of Veterans by the Veterans of Foreign Wars (VFW) Post 2423 and the Vietnam Veterans of America (VVA) Post 1103 for their Veterans Initiative Program.
"Just in our leadership team we have over 100 years of military experience, and we are Veteran-owned and Veteran-operated," said Cullen Wright, director of the Veterans Initiative Program for Advocate Health Advisors. "We are uniquely qualified to run the Veterans Initiative Program, which is designed to teach our Agent Advisors how to assist Veterans in navigating their way to optimal healthcare and wellness choices through education about their benefits."
Advocate Health Advisors has a long-standing history of championing Veterans' initiatives which have included sponsoring local, state, and national conferences, golf tournaments, and dinner events, parades and barbecues to raise funds for VFW scholarships and charities. Advocate Health Advisors has also provided support in health plan counseling and advising to dozens of Veterans in the community.
"We're honored to have received this recognition," Wright said. "It reiterates our commitment to all who have served our nation."
About Advocate Health Advisors
An Advocate Health Advisor is an essential part of every member's healthcare team. Advocate Health Advisors is a Veteran-owned group of Agent Advisors who educate members on how to navigate the complicated care landscape while protecting their finances, resulting in better health outcomes and greater happiness in the process. Advocate Health Advisors strengthen the healthcare team by working with health plan carriers and providers to achieve one common goal: maximum wellness for members.