In The News
Advocate Health Advisors Launches Veteran Website
Advocate Health Advisors Launches Veteran Website. Veterans Will Help Veterans with VA and Medicare Benefits.
June, 2017
TAMPA, FL - (May 25, 2017) Advocate Health Advisors is proud to announce the launch of AdvocateForVeterans.com, a website focused on empowering Veterans by helping them navigate the complex landscape of their specific healthcare needs.
AdvocateForVeterans.com was launched as part of Advocate's Veterans Initiative Program. The site educates Veterans on how to maximize their VA benefits by showcasing information, available resources, and videos. "The videos, in particular, are powerful," said Darwin Hale, CEO of Advocate Health Advisors. "Veterans can watch these videos and see themselves or someone they know, these are real Veterans that Advocate Health Advisors has assisted with developing their personalized healthcare plan," said Hale.
Advocate Health Advisors Recognized for Veteran Support by Veterans of Foreign Wars and Vietnam Veterans Association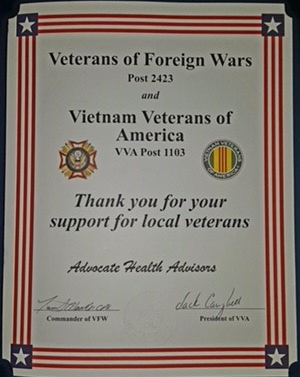 Recognition Reiterates Company's Commitment to Celebrating Military Service
January, 2017
Advocate Health Advisors, a Veteran-owned healthcare organization committed to helping Veterans successfully navigate the healthcare system, was recently recognized for their support of Veterans by the Veterans of Foreign Wars (VFW) Post 2423 and the Vietnam Veterans of America (VVA) Post 1103 for their Veterans Initiative Program.
"Just in our leadership team we have over 100 years of military experience, and we are Veteran-owned and Veteran-operated," said Cullen Wright, director of the Veterans Initiative Program for Advocate Health Advisors. "We are uniquely qualified to run the Veterans Initiative Program, which is designed to teach our Agent Advisors how to assist Veterans in navigating their way to optimal healthcare and wellness choices through education about their benefits."